Invertek Drives (UK) are spearheading industrial electricity conservation world over. The following few out of many industrial sectors help to demonstrate our point. At Sharif International we are leading industrial innovation by demonstrating the energy saving aspects of Invertek Drives across the vast expanses of Pakistan. Should you require a demonstration please contact us here.
---
Optidrive keeps it cool in Italy!
The water cooling systems in one of the most prestigious steel foundry's in Europe now rely on Optidrive variable speed drives to keep production running.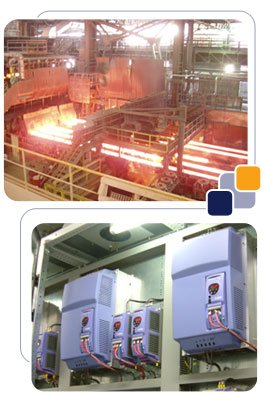 48 Optidrives are used to control water pumps in the cooling systems on six continuous casting lines in the Beltrame Group foundry in Italy. Optidrive Plus 3GV and Optidrive Plus VTC , with its innovative energy saving features, were specified in a range of sizes up to 22kW.
Innovative energy saving features
Optidrive Plus 3GV uses 3GV technology to deliver 200% torque down to 0.0Hz, allowing this unique open loop product to be used without any feedback device in many traditional closed loop applications. Designed specifically for fan and pump applications the Optidrive VTC maximises energy saving with its sleep mode feature and an automatic energy optimiser function, which reduces the motor voltage to match the load.
The Optidrive's were supplied to Beltrame by Invertek Drives Sales partner in Italy, Siei Peterlongo electric S.p.A.
Enrico Rebuffi at Siei Peterlongo confirms:
"For this application Optidrive units need the ability to work in harsh environments up to 50°C, whilst maintaining totally reliable performance for continuous operation, 24 hour per day. Easy to wire, offering very fast and simple commissioning, and meeting EMC requirements without the need for external filters made sure that Optidrive was the first choice for this application."
The Beltrame Group is one of Europe's leading producers of commercial steel rolled sections and special bars for shipbuilding and earth-moving machines. Founded at the end of the nineteenth century by the Beltrame family, the company has a proud heritage. This includes a highly prestigious subsidiary, Laminés Marchand Européens's, which has been working in the steel and iron market since the middle of the nineteenth century.
With production capacity of 3 million tonnes through nine plants strategically located near to the main product catchment areas throughout Europe, the Beltrame Group boasts comprehensive European coverage.
---
Invertek has become a reference in the international metallurgic industry
Since it was launched, Invertek Drives Spain has focused its activity on markets where the key benefits of Optidrive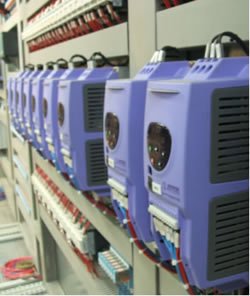 are utilised to the full. One such market to recognise the powerful tools and incredible performance offered by the Optidrive range is the metallurgic sector, where the purple colour is increasingly decorating the industrial environment.
The latest major system using Invertek Drives Spain was developed, built and installed by a company specialising in metallurgic treatments. Composed of 25 Optidrive Plus 3GV units complete with specialist 3GV-W application macro software, the system controls different parts of a sophisticated metallurgic process.
This 3GV-W software allows the use of up to three acceleration and three deceleration ramps, with each being selected automatically as a function of speed. The operator presets the speeds at which each of the ramps activates whilst additional flexibility is provided by allowing selection of independent acceleration and deceleration ramps via digital inputs. These specialist functions compliment the standard Optidrive Plus 3GV feature of providing 100% motor torque down to 0.0Hz.
"This is a very important tool when you have to set up hundreds of drives and have a parameters list for the future" said the technical manager of the company installing the system. In case of service requirements to any drive the technical support team are able to send replacement drives very quickly, pre-loaded with the full list of parameter settings. This is a very important requirement once the system becomes old and personnel forget the parameters that were originally set up.
Furthermore, the pluggable signal connector allows quick and easy change of one drive for another, up to five times less than the time required for previous drives in this application.
Time is money and the metallurgic engineering companies are appreciating such benefits, knowing they have superb performance and reliability with a drive that puts them firmly in control of their processes.
---
Fan Energy saving leads to growing demand
Fan and Pumping applications have been an important part of the variable speed drives industry for many years,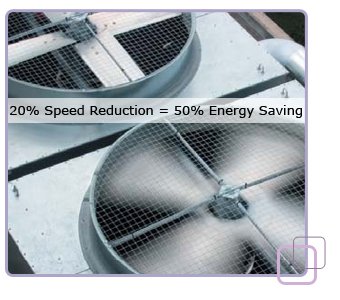 where the benefits of energy saving, improved enhanced control and performance are well known. However, with the ever increasing energy costs, and the worldwide focus on the environment, the market for inverters in these types of applications continues to grow.
So how are the energy savings achieved? Centrifugal fans and pumps have a particular characteristic where the torque required to turn them is proportional to the square of the speed. The power required is then proportional to the cube of the speed. From this, it can be seen that a reduction in the fan speed gives a much larger reduction in the power consumption, and a 20% reduction in speed can save up to 50% of the energy consumption!
Many fan and pump installations operate at a constant flow rate, even though the actual demand for them varies widely. The required flow is then adjusted using mechanical valves or dampers, which reduce the overall system efficiency. Invertek's Optidrive E2, Optidrive Plus and Optidrive VTC all feature built in PI or PID control, designed so that the drive can automatically maintain a constant pressure or flow set point, based on a signal provided from a feedback transducer. For example, where a pump is used to pump fluid at a constant pressure into a system where the demand may vary, a transducer can be installed to measure the actual pressure, and the Optidrive can be pre-programmed with the desired setpoint. The Optidrive will then adjust the pump speed to maintain the pressure automatically, providing a simple, reliable means to achieve consistent energy savings, particularly when compared to a pump simply running at full speed continuously, controlled by throttle or recirculation valves. Automated systems, which remove the need for an operator to manually adjust the speed almost always provide the optimum energy savings.
Invertek's Optidrive VTC has been specifically for centrifugal fan and pump applications, and as such has features dedicated to this industry which can further assist the energy saving potential. The PID controller has an additional 'Sleep / Wake' function, which allows the drive to automatically shut down if the preset feedback level has been maintained over a programmable time period, and restart when demand requires. Again, this automatic system, once programmed, removes the need for operator intervention, meaning that the maximum savings are achieved with minimal effort, and also simplifies the installation when retrofitting to existing applications.
In practice, the real world results achieved depend largely on how well the overall system is designed and controlled, it's typical operating period and power level. It's important to consider all these factors when considering energy savings, to ensure that the expected end results are realistic, and not based predictions created with unrealistic data or figures. Pumping applications in particular can be more complex than it may first appear, particularly where the static head of the system is high when compared to the maximum head available, which will limit the amount the pump speed can be reduced before the head can no longer be maintained.
It's also important to remember that not all fans and pumps are centrifugal type, hence some 'Blowers' such as Roots type, or pumps such as PCP (Progressive Cavity Pump) or displacement pumps may require a constant torque drive (Optidrive E2, Plus 3GV). Energy savings and system improvements can still be made with constant torque applications, however the overall potential for energy saving is reduced. Installing an inverter to a fan or pump, and operating constantly at maximum speed is unlikely to be a cost effective, energy saving strategy, and so the first step should always be to look at the existing installation to determine where and how energy can be saved, and then determine how best to reliably and repeatedly achieve those savings. Invertek Drives has developed a simple to use energy saving calculator, designed to give a fast indication of the energy that could be saved by the installation of an Optidrive on to a fan or pump control system. Greater savings will always be achieved where larger kW motors are used, and with system which operate for longer periods of time, e.g. 15kW or more motors operating for 8 hours per day or more. Installing Optidrives onto these applications will generally provide the shortest payback period – the time taken to recoup the cost of installing the drive based on the energy saved.
When installing drives onto large, high inertia fans, it's often necessary to activate the 'Spin Start' feature of the Optidrive. With Spin Start enabled, every time the Optidrive starts, it will automatically perform a prestart test to determine whether the motor is already rotating, and if so, find the speed of rotation and direction. This becomes vital on any fans where the fan can actually be blown around by drafts or air movement whilst the drive is disabled, whereby attempting to start the already rotating motor effectively applies a short circuit directly to the drive output. Should the motor be turning, the drive will automatically begin control by matching the output frequency to the motor speed, and then controlling the motor to the correct operating direction and speed setpoint.
---
Optidrive delivers a crushing performance!
Using Optidrive Plus 3GV to control a single rotary crusher has delivered some substantial benefits for a quarry in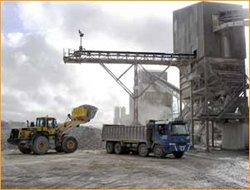 Ireland.
The Coolmore quarry in Cork is operated by John A Wood in Cork. The quarry uses a Sheepbridge single rotary crusher which was originally fitted with a 160 kW slip ring motor and starter combination. The replacement equipment was required to provide extremely reliable control together with significant energy savings at start up.
The electricians at John A Woods had initially calculated that a 200 kW AC motor would be required to cope with the load. After detailed tests and analysis however, The Reliance Bearing and Gear Company, working with Invertek Drives in Ireland, were able to recommend a 160kW squirrel cage motor controlled by an Optidrive Plus 3GV.
The first challenge was reducing energy consumed on start up. Traditionally slip ring motors are commonly used on high inertia loads because of their superior starting torque, efficiency and their ability to start high inertia loads.
Starting this type of high inertia load direct-on-line with a standard squirrel cage motor typically takes up to 550% of rated current for 60 seconds. Starting the same machine with a slip ring motor requires only 200% increase in current for around 20 seconds. In this instance the Optidrive Plus 3GV, together with a squirrel cage motor, was able to start the system in only 40 seconds whilst taking only 27% of motor rated current. This provides an extremely energy efficient solution.
As the stone feeds into the crusher a peak load is created, which could have led to the drive tripping on over current. In addition, the crushing drum can undergo very short periods of light load inbetween crushing one large stone and starting on the next one. This could cause the drum to speed up and the drive to trip on over voltage. Reliance Bearing and Gear were able to overcome these challenges by fitting a brake resistor and adjusting the perfomamce of the Optidrive Plus 3GV vector speed controller.
The next challenge was to guarantee that if the machine was not running at the rated operating speed for any reason it would not fill with material and cause a blockage. The Optidrive Plus 3GV. was programmed to provide control signals to the feeder line. The result was that if the drive tripped or was not at full speed the feeder would then also stop, the momentum of the rotor would crush the material in the crusher and the machine would be cleared.
Finally, the spin start feature on the drive was enabled to provide rapid and smooth re-start in the event of losing the incoming power supply. The spin start feature is able to detect the speed of the motor and then match the drive to that speed before accelerating to its final operating frequency.
Stephen Tighe of Invertek Drives in Ireland confirms: "The Optidrive Plus 3GV. has delivered excellent energy savings in this application whilst maintaining extremely high levels of performance and reliability. We would certainly expect this success to lead to increased demand for Optidrive Plus 3GV.
---
Optidrive VTC chosen for Rural Water Scheme in Ireland
Over 70 Optidrive VTC inverters have recently been installed to control water pumping operations within the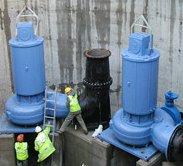 Rural Water Scheme underway in the South West of Ireland.
The Optidrive VTC drive was specified by EPS Limited of County Cork, the largest design, supply and installation pumping contractors in Ireland with over 70 Engineers based at their head office in Mallow. Following their prior successes with Optidrive VTC in a range of similar applications, EPS Limited had no hesitation in specifying the drive for Rural Water Scheme sites in Limerick and Claire, with many more sites now set to follow suit.
The Optidrive VTC drives used in this application range from 1.5 to 160kW, three phase 400 Volt and from 1.5 to 22kW, 220 Volt single phase. With the Optidrive VTC boasting many innovative features that provide market leading performance in HVAC and pumping applications, Field Engineers on this project were given dedicated training locally and at the Invertek Drives training facility in Welshpool.
In this water pumping application the built in PID function of the Optidrive VTC is used to control pressure. The innovative Optidrive VTC 'Sleep' then allows two pressure levels to be set, one at which the drive stops the water pump operating and another at which the drive commences operation again. This ensures that the drive is not constantly switching the water pump on and off around the target pressure, avoiding what is commonly known as a "hunting effect" and providing enhanced energy savings.
An expanded local/remote control function (often known as hand/off/auto) on the Optidrive VTC also provides significant benefits in pumping applications, allowing instant and reliable change of the method of drive control. Changing from local (hand) control using the keypad to remote (auto) control, where a sensor is used for drive feedback for example, is done at the touch of a button. The drive then automatically switches to the appropriate speed reference input for the chosen method of control.
The Optidrive VTC is already renowned for its ease of use plus simple installation and commissioning, making it the lowest cost solution for virtually all variable torque applications.
Its advanced energy saving features include an automatic energy optimiser function, which reduces the motor voltage to during partial load conditions, with the ability to automatically revert to normal operating voltage should the load increase. In addition, Optidrive VTC's optical interface allows communication with the unique Optiwand CE Plus Pocket PC based commissioning and storage software for fast and accurate product configuration.
Other features include a Dynamic Fast ramp function providing faster stopping with large inertia loads, particularly in applications where the inertia is variable and there is no braking resistor. The drive will decelerate the motor to a stop as fast as possible without tripping, ensuring no interruptions to the process whilst consistently using the minimum possible time to bring the load to a stop.
---
Invertek Drives gives South African power station a boost!
The 3GV technology delivers 100% torque at 0.0Hz allowing this unique open loop product to be used without any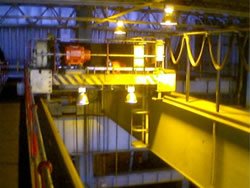 feedback device in traditional closed loop applications. The latest success story from South Africa concerns the complete retrofit of 2 x 100/25 tonnes turbine cranes for Grootvlei power station, where the main hoist has a maximum lifting capacity of 100 tonnes and the auxiliary hoist has a maximum lifting capacity of 25 tonnes. Morris Cranes undertook the project with Invertek Drives SA providing the variable speed drive technology.
The project required an upgrade of every crane in the power station so that all the motion elements, including main hoist, auxiliary hoist, cross travel and long travel, would be controlled through variable speed drives. Introducing variable speed drives allows the cranes to be operated at different speeds, even when single speed motors are fitted, and minimises maintenance costs by eliminating shock loading. The drives can also be used to prevent load swinging during start up and stopping.
With a gantry length of approximately 400 metres, a span (width) of 30 metres and a lifting height of 40 metres, these cranes provide an ideal application for variable speed drives.
Used to maintain the steam turbines within the power station, the running speeds of these cranes was previously very low. With an Optidrive Plus 3GV fitted the crane operators were given a choice of 3 different speeds and they had greater confidence in being able to move the extremely valuable cargos with a greater degree of control
By far the most challenging part of the project however was using the Optidrive Plus 3GV to maintain total control throughout a 105 ton load test over a lifting distance of 40 Metres. The most impressive part being able to demonstrate the 100% Torque from Zero speed without an encoder.
Mark de Beer, the Managing Director of Invertek Drives SA., confirms:
Being able to offer 100% torque from zero without the use of an encoder is most certainly a major benefit for hoisting applications and we have shown that the results that can be achieved with this drive are truly amazing.
---
Detailed case studies in a wide variety of industrial sectors can be found at
Invertek Drives
.