Another

first from Sharif International is the introduction of revolutionary new electrode-less lamps from Shanghai Hongyuan. These highly efficient energy saving lamps are also known as LVD lamps. With an efficiency on 98-99% these super luminaries turn the competition green with envy. Up till now traditional CFLs also known as so called energy savers have a power factor of only around 0.5!
Less maintenance fee and lower energy consumption but higher lighting quality is the hallmark of this new lighting technology.
Loaded with features, that at first seem too good to be true LVD lamps have an average life span of 100,000 hours. As a matter of fact we proudly offer a 5 years warranty on these superb devices. Needless to say that they are a clean cut above the rest.
To accustom yourself with their excellent features and specifications see the appropriate brochures underneath.
---
---
---
LVD Lamps General Details: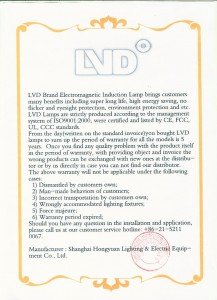 LVD Fixtures:
LVD Luminaires' for Roads and Highways:
LVD Lamps and Fixtures for Office:
LVD Tunnel and Underpass Fixtures
LVD Lamps and Fixtures for Gas/Petrol Stations:
Industrial High Bay LVD Fixtures: