Four Thatta (Sindh) Villages Electrified through Centralised Solar PV Systems !
A PPAF funded project awarded to a Pakistani NGO was implemented by Sharif International in record time of two weeks whereby four villages were connected to a small micro grid powered through solar PV system. This impoverished area never even dreamed of having electricity anytime soon but through the initiative taken by PPAF and local NGOs hopes are now turning to realities!
Here's how!
Agricultural Water Pumping System for Karore Lal Esan Goes Alive!
The areas adjoining River Indus have rich fertile soil and are also blessed by small static heads making the application of solar water pumping ideal. The latest installation sees approximately 125 M3/H of ground water gushing out to quench a thirsty lot of 30 Acres. Although the local farmers have flood irrigation implemented through open unpaved water courses at the moment they have plans to leverage the power of paved channels to get extra mileage from this abundant water.
Sharif International are privileged to have had this opportunity to provide the complete agri solar water pumping system on turnkey basis. As part of this undertaking the PV mountings and piping were galvanised using hot dip technique to ensure a long life. The PV modules utilised were high efficiency mono-crystalline so essential to provide the necessary punch to the pumping paraphernalia.
If you too are a farmer or a landlord and are facing tremendous financial and productivity constraints due to expensive Diesel fired Petter type engines or non-availability of grid electricity then the solar water pumping solution is just a phone call away! Do contact us here for a quick remedy to your challenges. Do not allow these hindrances to let you down, let's make Pakistan green and highly self-sufficient in food. One day is all it takes to have your dream come true!
Here's a pictorial of the activity.
Solar Security Lights for a Remote Setup Provide Convenient and Economical Lighting.
Providing security to setups be they public or private is an important consideration in the current times. The cost of normal grid connected street and security lighting is many times more expensive than comparable solar powered solutions when wiring layout, digging, trenching and other aspects are taken in to consideration. This is specially true for larger installations requiring more cable runs.
Based on the same principle the following remote site in a high altitude environment saw the security flood lights come up in just two days including installation & commissioning. With the economical rates and high quality components the said installation stands to achieve its ROI in about 18 months time.
Solar Water Pumping Installations Gain Momentum at Sharif International.
Based on an array of powerful solar water pumping systems from world renowned brands like Grundfos Denmark and Carrier/Alarko powered by high efficiency European PV modules the installations at Sharif International have been brisk. Mid February saw yet another installation of an agri solar water pumping system go up at a Lahore Farm. They system lifts water from a bore hole at a depth of approximately 45M and delivers to a ground level reservoir as well as to a sprinkler system when the tank is full. The owners are delighted to note the abundance of water without shelling out a penny on Diesel Fuel or grid electricity. The excess water will now be used to irrigate more areas and new orchards are planned this spring.
If you too are a farmer or a landlord and are facing tremendous financial and productivity constraints due to expensive Diesel fired Petter type engines or non-availability of grid electricity then the solar water pumping solution is just a phone call away! Do contact us here for a quick remedy to your challenges. Do not allow these hindrances to let you down, let's make Pakistan green and highly self-sufficient in food. One day is all it takes to have your dream come true!
Here's how it goes.
Rural Area of Shakardara in remote KPK Pakistan gets Solar LED Street Lights.
Some of the basic necessities of life that are taken for granted elsewhere are nothing short of a blessing for places like Shakardara. Recently TMA Lachi took the bold step of lighting up the dark streets and alleys of Shakardara Town by having Sharif International install 130 quantity latest and energy efficient solar LED street lights. Due to the remoteness of the location Grid electricity is highly unreliable and even when present the Voltage is too low to be of any practical use.
The local residents are overjoyed to have their lives brightened up through a simple intervention that has enhanced their quality of life many times.
Solar Powered Electrical Backup System Replaces Diesel Genset at Cadet College Razmak, Pakistan.
In the presently ongoing saga of eternal power shortages many educational institutions are faced with a dilemma, more so given their tight budgets. Coming up backup power solutions for long hours at an understandable cost is the big question for them. Sharif International addressed the challenge head on by installing an aggregate 14kVA solar PV hybrid solution for essential applications like lighting, fans, and some teaching aids. The said solar system totally rids the use of diesel genset for given applications thereby saving a huge amount of overheads previously spent on genset fuel and maintenance. Some stages of installation are here.
Solar Water Pumping for an Agri Farm at Adiala, Rawalpindi, Pakistan.
The continuously falling prices of solar PV modules have been a boon to the farmers that don't have access to grid electricity and are dependent on expensive diesel fired pumping solutions. At this farm a Grundfos Denmark has been installed on an onsite well that pumps out water to a yet to be constructed water tank. The owners are over joyed to have this free source of energy that would last a long while. Here is a brief coverage of the episode:
Another Large Housing Society in Lahore Chooses InductoLVD® Energy Efficient Street Lights.
Bringing in energy efficiency is the most important aspect for housing societies to reign in their ever increasing electricity overheads for infrastructure lighting. InductoLVD® Lighting solutions offer the best value for money energy efficient lights as compared to other options like LED. The said housing society adopted 80W energy efficient InductoLVD® lamps that are performing better than 400W HPS as the below pictures stand witness to this exciting fact!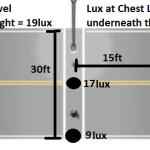 Completion of 2nd & 3rd Leg of 450 Solar Street Lights for Khar Bajaur – FATA Urban Centers Project (FUCP).
Last January saw the speedy completion of more than 300 solar powered standalone street lights in Khar Bajaur. The difficult task was completed in record breaking time through the incorporation of multiple teams working in tandem day in and day out. Sharif International is one of the largest and most quality conscious solar power house in Pakistan and now is also offering relevant services in the Middle East region.
Another Public Park in Rawalpindi Goes (Real) Green through Solar Street & Flood Lights.
The unabated grid failures & planned load shedding does no good to public parks as well as the public frequenting them. As such the older HPS lamps keep going off all the time and come back to full power only after a good few minutes re-strike time. This too only happens at parks equipped with a backup generator, for the less privileged parks darkness and fading public figures are the order of the day!
But worry no more – Sharif International is around as it has been for the last so many years to clear out the dark patches across the nations expanse. Here's how it was done – HPS lamps were replaced by energy efficient InductoLVD® lamps based solar street & flood lights and a solar PV system based on high efficiency mono modules along with complete wiring & poles was put in place.
---
175kWp+ Solar PV Systems Installed/Supplied in December 2013.
Every new day at Sharif International dawns with more exciting developments across the length & breadth of the country. As such December 2013 alone saw more 175kWp PV modules being installed for many different projects. Most of this activity took place round the clock with imports being cleared from Karachi as well as Islamabad Dry Port and re-shipping the container loads of consignments up & down the country to project sites. It wouldn't be an unusual sight to witness forklifts loading containers at half past midnight at our office locations & warehouses.
Sharif International mostly uses mono PV modules offering minimum  16% – 17% efficiency as against most other competitions 14%-15% humble offering. Even the so called European brands hardly come anywhere near our PV Modules standards & high quality specs.
---
Standalone Solar Powered Water Pumping & Aeration System for Fish Farm at Gujar Khan.
Fish farming provides a very viable means of business & revenue generation for rural population in many parts of Pakistan. The nature of project involves extensive operation of induction motors for water pumping in & out of the pond as well as for aeration and other purposes. The biggest challenge faced by these fish farmers is the non-availability of grid electricity at the most suitable sites. Even at places where grid electricity is available the continuity of supply is another big issue. Until recently these folks were at the mercy of expensive diesel fired gensets which cost them too much as well as offering downtime challenges due to routine maintenance and failures of diesel engine.
Sharif International has offered a very economical and dependable solution that bypasses all the shortcomings being faced by fish farming industry in terms of economical & reliable power availability to power its water pumps. As such high quality Grundfos Denmark submersible are utilised by Sharif International as usual to perform the feat at Gujar Khan.
A virtual tour of the model farm is right here.
---
Standalone Solar Powered Straw Chopper for a Rural Farm.
Solar PV powered interventions have developed sufficiently to a stage to impart their beneficial effect to relatively non-traditional areas. As such remote villages & farms that have hitherto been unaware of benefits of electricity can now witness the solar PV magic.
One such example is a model farm in Rawalpindi District where the entire electricity requirements are being met by solar PV solutions that power lighting, ceiling fans in the summer and equipments like submersible water pumps and straw choppers for cattle feed. Over and above being there in the first place, solar PV technology has become cheaper enough to be almost at grid parity. Have a virtual tour of this great model farm right below.
To further enrich your virtual tour here is a video of the solar straw chopper in action:
---
18 Solar Lighting Masts for Jinnah Park Rawalpindi.
Jinnah Park next to the District Courts Rawalpindi is a very popular destination with the locals and is jam packed even on week days. The frequent load shedding put heavy strain on the backup generators and also posed security issues.
It was therefore decided by the competent authorities to opt for solar lighting masts at prominent places that would stay powered ON despite power outages. Ms. Sharif International due to their extensive experience in the renewables arena were a natural choice.
As of today 4 masts have already been commissioned and are performing their duty faithfully. On top of solar PV benefit, the installed 80Wp InductoLVD® lamp each replaces 400Wp HPS lamp. The actual consumption of these 400W HPS lamps is around 660W, thereby a staggering 460W per lamps has been conserved just by the utilisation of energy efficient lamps. Here's an ode to the brilliant achievement.
---

Solar Flood Lights for
Policing Remote Border Areas.
Policing law & order in hard to reach international borders could be a real challenge when there is little or no infrastructure at all on site. One such place is Pakistan – Afghanistan border which is long and porous, thus requiring continuous monitoring. The task at night becomes much more difficult due to lack of reliable electricity and lighting arrangements. Solar PV powered flood lights are luckily available from Sharif International that save the day.
These highly reliably and hardy solar flood lights serve for many years without any major maintenance from users. Powered by high efficiency PV modules, MPPT controllers and deep cycle gel batteries the combination is just about right for the harsh environment. Having installed many thousands of solar street & flood lights across the length & breadth of Pakistan, Sharif International is naturally the choice of all major donors & organisations.
Have a glimpse of numerous such installations below: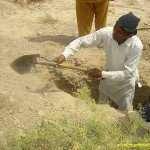 ---
450 Solar Street Lights for Khar Bajaur as part of World Bank Funded FATA Urban Centers Project (FUCP).
Sharif International was the bidder of choice for this very sought after project. Although the project site happened to be in one of the currently turmoiled areas of FATA, Sharif International in unison with its local partners Ms. PID managed to swiftly complete the 1st Phase of 150 units well in time. The high quality workmanship of these sturdy and dependable solar street lights in one of the harshest environments stand a witness to our commitment to quality.
Currently the 2nd & 3rd phase of next 300 solar street lights is underway and planned to be completed within next 8 weeks' time.
---
Water Pumping for District Karak Rural Communities.
Due to non-availability of grid electricity at some remote and harsh areas of District Karak in Pakistan, remote rural communities lack potable water facilities. The hilly terrain particular to the area makes things more difficult as the water has to be pumped up from underground bore/well first and then transported through pipes to a central reservoir over distances spanning multiple kilometers.
High quality IEC/TUV 61215/17 approved poly solar modules were mounted on manual trackers to gain maximum advantage of sunshine.
Sharif International took the challenge head on and has already installed two out of currently four awarded sites. The installed Grundfos Denmark Pumps are performing a wonderful job by virtue of their robust, reliable and high-tech build quality. The local population is delighted to have the new facilities and is looking forward to more such solar tube wells for adjacent communities in the next few months.
---
Sheikh Khalifa Bin Zayed Al-Nahayan Bridge Swat Inaugurated.
The said grand bridge was inaugurated yesterday. As already mentioned below the solar street lights on this beautiful bridge were done on EPC basis by Sharif International. Here is the coverage courtesy The NEWS:
Chief of Army Staff (COAS) General Ashfaq Parvez Kayani visited Barrikot, Swat, Friday to inaugurate Sheikh Khalifa Bin Zayed Al Nahyan Bridge.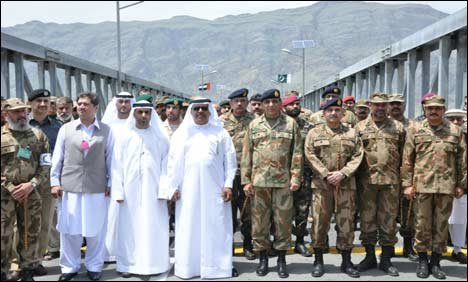 The bridge which connects 15 towns and 45 villages, was completely washed away during the 2010 floods.
The bridge is one of the projects undertaken by FWO in collaboration with United Arab Emirates in KPK. UAE is providing considerable assistance for infrastructure development in areas affected by the War against Terror.
Economic activities generated by such projects will bring immediate relief to the people of the area and also, in longer run, combat militancy by providing the youth with viable employment opportunities.
The ambassador of UAE to Pakistan, Essa Abdulla Al Basha Al Noaimi, as well as dignitaries from UAE Embassy and UAE Pakistan Assistance Programme (UPAP) and notables from the area were also present on the occasion. COAS thanked the Ambassador for the generous assistance of UAE and efforts to cement the abiding friendship between the people of the two countries.
He also appreciated the efforts of the rank and file of FWO, for providing speedy and quality construction work in far flung areas, often amidst dangerous working conditions.
If you are interested in a similar solution please do not hesitate to contact us
---
1kWp Hybrid Solar/Wind Turbine for a Charity Hospital at Chakwal.
Some pockets of Chakwal region in Punjab – Pakistan  benefit from medium wind density resources. One such place is Choa Saidan Shah. It has moderate all round wind potential. A trial solar/wind hybrid system has been installed by Sharif International to test the site for future larger deployments. This system currently powers a 1kVA inverter unit which in turn supplies power to lighting and a few accessories.
The hospital admin are overjoyed to be benefiting from free fuel in the form of ambient sunlight and wind. Currently the said system is providing around 10 hours of free energy to the owners.
Here's a  some pics:
If you are interested in a similar solution please do not hesitate to contact us
---
Small Scale Hybrid Solar/Wind Turbine Electricity Generation at DHA Islamabad.
Rawalpindi/Islamabad had been known to have only very low level wind densities until recently. With the advent of new housing ventures like DHA open spaces have been exposed thereby creating opportunities for WTG (Wind Turbine Generation). As such many small solar/wind hybrid systems have been successfully installed at some areas of DHA Islamabad. These systems power a 1kVA inverter unit which in turn supplies power to domestic appliances and lighting accessories.
The recipients of such systems are simply overjoyed to be benefiting from free fuel in the form of ambient sunlight and wind. Currently the said system is providing around 10 hours of free energy to the owners.
Here's a small video and some pics:
SI_DHA_solar_wind_hybrid_turbine_WTG_system
If you are interested in a similar solution please do not hesitate to contact us
---
Energy Saving LVD Lamps for Peshawar Cantonment.
Some days back Sharif International installed highly energy efficient LVD street lights at Peshawar Cantonment replacing older technology HPS lamps. As a matter of fact existing 250Wp HPS lamps were replaced by only 80Wp LVD lamps thereby generating a staggering 68% energy conservation on immediate basis.
The installed hi-tech lights and fixtures now grace Jalil Road Peshawar Cantonment and proudly illuminate the street with equivalent illumination and much higher CRI leading to greater clarity of vision and visibility for drivers and pedestrians alike.
If you are interested in a similar solution please do not hesitate to contact us
---
Solar Street Lights Sheikh Khalifa Bin Zayed Al-Nahayan Bridge Swat.
The Shamozai area of Swat in North West Pakistan is a beautiful place that witnessed a new bridge built by FWO and funded by UAE Government. Due to non-availability of grid electricity solar street lights were proposed for this hi-tech bridge that is about half a kilometer in length.
Sharif International did justice to the bridge by planning, designing & installing befitting solar street lights complete with galvanised poles and balance of system items. The said lights were installed in a record time of five days thanks to the speedy work of Sharif International engineers and technicians. Given underneath is a brief pictorial of the activities which also outlines a modern Madrassah where similar  solar street lights have been installed through same funding.
If you are interested in a similar solution please do not hesitate to contact us
---
Kharian Cantt. Polo Ground Jogging Track and Tennis Courts Solar PV Electrification.
This beautiful garrison area was besieged by poor quality and continually failing grid electricity. Thus families thronging to the ground in the evening for a stroll or walk had to face pitch darkness at times.
Well, darkness is no more a challenge at this beautiful ground since it has been electrified through Solar PV and the whole area is lit up for 5+ hours through energy efficient LVD lamps and powered by free energy from the sun!
On top of this smaller sized solar powered emergency lights were installed at dining halls and a few solar water heaters were installed at officers blocks.
If you are interested in a similar solution please do not hesitate to contact us
---
0.5kWp Wind + 260Wp Solar PV Hybrid Systems Each for Keenjhar Fisheries Department Office, Sindh
Due to very good wind potential at Keenjhar near the historical city of Thatta a 500Wp Hummer Wind Turbine was recently installed at the Fisheries Department.
The wind/solar hybrid system boasts of automatic control unit with a sine wave inverter and would power office lights and some electrical equipment.
If you are interested in a similar solution please do not hesitate to contact us
---
A Combined Military Hospital in Punjab Witnesses Standalone and Grid Backed Solar Street Lights.
A CMH in a Punjab Cantonment had issues with faulty grid supply and security was being compromised. Sharif International designed and implemented a hi-tech Solar Street Lights and Solar Flood Lights System to rectify the security concerns.
The said system works on a standalone basis for some of the lights whereas for others it is grid backed to provide extra-long timings at an affordable cost to the hospital authorities. As usual only highly energy efficient LVD lamps were used that also boast of a 3 – 5 years warranty.
If you are interested in a similar solution please do not hesitate to contact us
---
Solar Water Geysers and Solar Street Lights for a Kalaam Rest House, Swat.
A few weeks back Sharif International was awarded the contract to install a few dozen Solar Street lights and Solar Water Heaters (Geysers) at a picturesque Kalaam Rest House. Electricity in this area is at a premium, hence what best option than solar to power the street lights and warm the water for daily use?
The installed solar geysers are highly efficient and certified models providing warm water even in harsh winters of this area. Whereas the solar street lights feature our usual highly efficient LVD lamps and are designed to work from dusk till dawn.
Some snaps are here to apprise our faithful patrons of the activity that took place at Kalaam.
If you are interested in a similar solution please do not hesitate to contact us
---
Solar Street Lights for District Boneer, Swat.
Last few months saw a tremendous amount of activity at Sharif International by virtue of number of new projects as well as individual quantum of work. District Boneer is a difficult terrain area as well as having been adversely affected by terrorism. As such it was a very pleasant surprise for the local population to welcome the new auto switching hi-tech LVD Solar Street Lights. Many hundreds of these solar street lights now grace prominent spots of this area.
This highly efficient LVD lamp based solar street lights are designed to work from dusk till dawn and grace the entire length and breadth of District Boneer Swat and number in hundreds. As visible from the pictures these sturdy design poles have been hot dipped Galvanized to a whopping 110 microns, at a specialist Karachi Plant before being shipped to Boneer in a forty feet container.
The hard work of our project team is highly visible in the following picture gallery:
If you are interested in a similar solution please do not hesitate to contact us
---
Industrial Waste Energy Reclamation.
Almost all industrial units waste energy in the shape of lost heat, air handling units pumping out millions of cubic metres of powerful air and so on.
Sharif International has recently adopted an ingenious method to utilise the otherwise useless air being pumped out of the industry halls.
As a test case we installed a 0.5kW quality HAWT Turbine infront of one of these exhausts. To every ones' surprise and amazement the 0.5kW turbine has performed quite well. We now plan to offer larger units to similar industrial units, whereby they would be able to cut down on electricity cost by powering ther luminaries' through free electricity!
If you are interested in a similar solution please do not hesitate to contact us
---
An Ode to the Untiring Efforts of Sharif International to Bring About Change in Rural Communities.
Here is a link to a BBC Urdu news coverage on Gul Hassan Shoro Village in Ghora Bari area, Sindh – Pakistan. This video coverage has been given the caption "Dulhan Bijli Ka Geet!". Which means that electricity in this part of the world is like a new bride arriving in ones home! Hence the women folk are singing a welcoming song for "Bride Electricity".
All those guys who are interested to get a bride in their homes this easy, do kindly contact us 🙂
Here is the link to the BBC Urdu Website.
---
Keti Bandar, Sakhro, Ghora Bari & Bagan Area Villages Again Witness the Solar PV Magic.
The quality, expertise and economy offered by Sharif International spreads around like wild fire. As a matter of fact most International donor agencies and NGOs, who have as yet been hoodwinked by non-technical cow boys claiming to be renewable energy experts are shocked to see the beautiful face of solar and wind energy. Most of these people exclaim, "We never knew or witnessed that renewable energy is this reliable and developed to such an extent!". Installations done by Sharif International are properly planned and designed ensuring a trouble free long life and quick return on Investment of donors.
Here Sharif International is again chosen by well know international development agency to bring about change in remote desert communities, who are now witnessing electricity in their homes for the first time.
---
Hybrid Wind/Solar Electrification of Entire Villages in Mirpur Sakhro, Thatta, Gharo and Keti Bandar Area.
Continuing on the succressful project record Sharif International has done that feat again by completing dozens of hybrid wind/solar centralised system for entire villages.
As usual quality components and reliable turbines have been utilised to provide a completely independent centralised power system for 25 houses per village. Have a brief glance at one such Village known as Missri Sheikh. Click the link below to download a video of Village Missri Sheikh.
---
Solar Street Lights for Jharikass – Azad Kashmir.
Sharif International has been chosen to install a pair each of solar street lights for Azad Kashmir Bridges. The first installation was done in Jharikass. As usual world class highly energy efficient and high illumination LVD lamps have been utilised to power an unbelievable illumination from a minuscule 23W self ballasted LVD lamp at 6500 Kelvin color temperature.
The results and quality of work are here for your perusal, be it the pole quality, the integration components or the German solar modules, Sharif International has a total commitment to quality and value for money solutions for all.
---
Solar Home Systems Providing Power to CFLs and Mobile Phone Chargers throughout Swat Valley.
As part of solar electrification of 600+ homes in the Swat Valley, Sharif International has accomplished the first phase of 315  SHSs.
The most deserving and far off communities were chosen to benefit from this scheme. Now the beneficiaries have 3 CFLs each as well as a mobile charger per home. Almost all of the communities were off grid and used to burn kerosene oil and wood for their  lighting needs. Now they are saving at least Rs. 1,500 each per month because of newly installed solar home systems. On top of this there are many health benefits for the dwellers due to absence of smoke and soot in their huts.
Some of the main Union Councils include UC Kalagei, UC Dewlay, UC Shamozee, UC Kanju, UC Barikot, UC Bazdara, & UC Sarsenay Kabal. Each Union Council consists of many villages, most of which are in the beneficiaries list.
---
Solar Home Systems and Solar Street Lights for Mirpur Sakhro Sindh.
Most rural communities in Sindh live far off from the electricity grid. At times the geographical challenges limit grid connection.
In addition to other on going projects in the area, Sharif International has provided 53 Solar Home Systems and 53 Solar Street Lights to the Mirpur Sakhro area communities. The area is near the historical city of Thatta.
What difference this intervention has brought for the target communities can be witnessed underneath.
---
A Demonstration Solar LVD Street Light Graces DHA Islamabad.
Due to the never ending episodes of power failure in Pakistan solar street lights offer a promising new avenue. While proposing solar solutions it is our effort to economise the target load as much as might reasonably be possible. Our hi-tech LVD lights do exactly the same. With illumination that rivals equivalent 150W HPS our 40W LVD lamps turn on the magic at DHA Islamabad.
Have a look at the amazing illumination being provided by a meagre 40W L|VD Lamp. For technical buffs the foot print of the LVD solar street light should be of tremendous interest!
---
Playing Football in Swat under Solar Flood Lights.
Yes, you read it right. Swat folks in Barikot area now have access to a well lit football pitch that has been powered by solar PV.
We have done it again. In these difficult to reach areas, raising the flag of renewable energy is definitely a challenge. But then, Sharif International is used to accepting challenges that others find hard to achieve.
Here's a pictorial for you!
---
OEM PV Module Frames, LT Panels, Switchgear, Wind Masts & DBs Fabrication Facilities at Sharif International.
Being a major player in the renewable energy arena, Sharif International has in-depth knowledge and expertise of practical and on site challenges faced by system integrators.
It is no wonder that most larger companies, mobile operators and industries bank on us for their hi-tech LT Panels, DBs, Wind Masts and PV Frames.
We have complete in-house production and fabrication workshop at our Islamabad setup. The last OEM order completed was of a multinational operator for their clustered PV array frames.
---
Energy Audit at a Major Mobile Operator Identifies 67% Energy Conservation Potential!
More than 67% Energy Conservation Potential has been identified through a detailed (investment grade) Energy Audit of one of the largest and oldest cellular operators in Pakistan.  Main 14 corporate offices were the subject of the audit, housing admin, operations, CSC and HR.
Many areas like HVAC, Illumination, IT, Escalators etc. were probed and saving areas were pointed along with recommendations and ROI analysis.
The project is in the implementation stage and it is expected that more 35% Energy Conservation projects would be completed before December 2010. The Annual Financial saving will be to the tune of PKR 37 million.
---
72% Energy Conservation at Shell Petrol Pump Tarnol.
In a recently competed pilot project by Sharif International, one Shell Diesel Filling Station at Tarnol Rawalpindi,  more than 72% conservation has been achieved on top of better illumination. The feat has been achieved largely by replacing the inefficient and high energy consuming HPS lamps with extremely the Energy Efficient & Environment friendly and Long Lasting LVD Induction Lamps.
Previously the overall load profile of the Diesel Filling Station was more than 19.5 kW while after conservation it has been reduced to less than 5.7 kW! Before the utility bills were so costly that even necessary lights like canopy side lights and canopy down lights were switched off. Now despite more than 72% energy conservation the illumination levels are many times better than before.
Next time you pass the area have a look for yourself!
---
Deemas Super Store at Abbottabad adopts LVD and saves a massive 60% off its illumination costs.
Deemas Super Store at Abbottabad Pakistan offers choice stuff to a well off neighbourhood. The offerings in addition to usual grocery stuff include a charming Cafe' and an exotic BBQ all housed in a large building. The complex also offers a large car park at the back.
The owners here were not happy with the lighting installed because of poor illumination and soaring electricity bills.  After many other failed attempts Sharif International was contacted to rectify the situation. After installation of appropriate LVDs in the building, facade and parking lot, the illumination load has been reduced by a staggering 60%.
Just see what it means to conserve energy by way of LVDs and get even brighter illumination.
Solar Energy Systems Installed by Sharif International Covered in a Dawn News Documentary
Many hundreds of renewable energy installations have been done by Sharif International in the Sindh & Baluchistan area of Pakistan on top of other country wide installations.
The difference that these systems have made to the target communities and how they are serving the cause of eco conservation is highlighted by this Dawn News documentary that is being given underneath courtesy Dawn News Channel.
---
3kW Solar PV Renewable Energy Solution for an entire office in the Middle of a Desert.
Imagine having an office in the middle of a desert with absolutely no power whatsoever and the nearest dwelling is 25 km away, you can be sure that you are in Sanghar Sindh! The folks here were looking for an experienced and reliable alternate energy company that offered one stop solution. Sharif International was the natural choice again.
With a robust 3080Wp of solar PV arrays and MorningStar USA controller the office now can turn a city office green with envy. The main activities taking place in this wilderness are those that matter conservation and co-ordination with the desert communities.
Enjoy the virtual tour right here.
---
Wind – Solar Hybrid Solution for an entire office on the banks of Keenjhar Lake.
Keenjhar Lake near Thatta in Sindh Pakistan is a conservation heaven for lovers of wildlife and vegetation. It is also home to International NGOs which are continuously striving to uplift the area and ensure conservation. One such large international NGO requested Sharif International to install a wind/solar hybrid solution for its entire office at the edge of the huge lake.
It was a tough job installing the turbine on uneven rocks right next to the fresh water Keenjhar Lake. The result is in front of you with a 1kW Hummer Wind Turbine and 1.35kW of Solar PV modules serving the entire office. World renowned Hummer hybrid Charge Controller is at the heart of the system. With this impressive design the renewable energy office system keeps the battery banks charged and in tip top condition to get going for a tough day ahead, any day and every day of the year.
---
Solar PV Home Systems for Remote Desert Communities.
Sanghar (Sindh) and beyond is a harsh and hostile area from the point of view of dwelling. Although the people living in this area are very hardy and ingenious, still day to day life here is nothing short of a continuous challenge. Add to this the unavailability of grid electricity and we have what is know as Baqar Village. The different adjoining villages are right in the middle of a large desert.
Sharif International was again the choice of multinational NGOs to provide small solar home systems to these communities. As a part of this project many dozens of localities have been provided solar renewable energy. The village folk have appreciated this positive step and are thrilled to witness their dark nights finally lit up by none other than mother nature itself!
---
Hummer Wind Turbine Turns on the Magic in Remote Bhoori Village.
Deep in the Creeks of Keti Bandar area is the fishing village of Bhoori. Far away from the grid and with no chance of any electricity in the near future, Hummer Wind Turbine has turned on the magic for the village folk. This 500 Watts turbine has been paired with two 125 Watts CentroSolar German solar modules to create the ideal solution.
Hummer Wind Turbines boast a rated wind speed of only 7-8 m/s and if the wind speed increases to 12 m/s then its power automatically doubles to 1kW! Due to this very feature and a robust design it only takes 3 hours for this Hummer Turbine to fully charge the battery bank that lights up 29 huts for 6 hours at least. The fishing community is over joyed by this new revolution in their lives that provides illumination and electricity to charge their mobiles etc.
---
Garrison Recreational Park, Bahawalpur has a Taste of Renewable Energy!
Lately Bahawalpur Garrison Recreational Park's illumination has been entirely converted to renewable energy. World famous Sun Earth USA solar PV modules are the main power generators here, coupled with Morning Star USA Charge Controllers & EverExceed UK Sine Wave Inverters. The result is a flawless and meticulously designed system that keeps the battery banks in tip top condition round the clock.
---
Highly Efficient & Energy Saving LVD Lamps Make a Real Difference to the Textile Sector
Lately the Textile Sector has been crippled with numerous challenges like high overheads and ever increasing energy costs. In this bleak scenario hi-tech LVD industrial illumination solutions offered by Sharif International are making all the difference to textile mills. One such large textile unit opting for the switch from fluorescent tube lights to LVD lamps is currently enjoying 60%+ savings as compared to previous bills on top of better illumination. The design of LVD lamps is eye catching to say the least.
With savings of this magnitude there is an ample potential for all textile units to look in to this extremely exciting new technology that offers a five years warranty for your peace of mind.
---
Utilisation of Abundant Wind and Solar Resources of Baluchistan
Of late Sharif International has been spanning the expanses of Baluchistan from Dasht near the Iran border to Ormara. Hybrid systems are very successful in Baluchistan areas bordering the seashore due to their dual potential. The inclusion of an appropriate wind turbine helps to drive down the price of the whole system dramatically. Many different installations go to our credit which have been designed, procured, installed and commissioned by Sharif International.
---
The Sun Finally Dawns on Fishing Communities in Sindh
Sharif International is the partner of choice with major international donors and NGOs working for the uplift of impoverished rural communities. One such area is the huge wetland adjacent to Keti Bandar and Shahbandar. These folks have never witnessed lighting in their huts other than portables torches. The advent of latest solar home kits from Sharif International in their huts is a dawn of a bright new era. Two of the pics highlight fabrication of solar module frames and wind turbine masts at our Karachi office. Enjoy these captivating moments from the Wetlands!
---
Benefitting from the Wind Potential at Keenjhar Lake (Kalri Jheel)
Extensive solar PV, wind and hybrid installations have been done by Sharif International in the Keenjhar and adjoining areas. Good wind resource allows cost effective hybrid systems that are suitable for homes, mosques and community places.
---
Multan Cantonment Park Goes Green!
One of the best and most effective energy conservation is the solar powered application of street/garden lights. One such installation by Sharif International is at Multan Cantonment Park. Here, numerous garden and street lights have been installed by Sharif International. Have a glimpse of these great Eco friendly lights right here.
---
Hybrid Systems in the Heart of Himalayas
A great experience full of enjoyable moments for us was the installation of hybrid systems amidst lofty snow capped mountains in the remote North of Pakistan. One of the sites was Baroghil – Lashkar Gaz. See the joy of people on seeing the house light up in the middle of nowhere.
---
Cholistan Villages Brightening Up through Solar Home Kits
Seeing the smiling faces of desert folk in the Cholistan after their huts were lightened up with solar power was the ultimate achievement of Sharif International. As part of this campaign that lasted two months, 140 remote homes in different parts of Cholistan were electrified by Sharif International on behalf of the Cholistan Development Authority. The home kit included 5-6 CFLs, DC Fan and mobile charger attachments. Quality CentroSolar PV modules from Germany are the driving force behind these systems.
---
Energy Saving LVD Lights for Allama Iqbal Open University Islamabad
As a part of its ongoing struggle against global warming and GHG emissions Sharif International group had the privilege of installing highly efficient energy saving solar lights at the Islamabad head office of Allama Iqbal Open University.
The said lights of 23W each were installed in a multitude of street light poles as well as main intersections of the campus. These lights will save this prestigious institution tremendous amounts of finance in the shape of reduced utility bills and help to conserve the nature by reducing GHGs.
---
PowerGen Expo, Lahore. 10th of December 2009
Sharif International Participated in this very important government sponsored expo on power generation and power saving. The expo was very successful with  Sharif International displaying cutting edge VFD technoloies from Invertek Drives UK and other allied energy conservation  technologies like LVD Luminaries'. Most of the visitors were very eager to learn about energy conservation opportunities offered by Sharif International.
Many dignitaries from the government ministries as well as PEPCO, Zarai Taraqiati Bank and high officials from the industrial sectors thronged our stall.
---
Invertek Drives UK, Mr. Light HID Saver & New Solar Solutions Launching Ceremony
As partners of ENERCON in energy conservation and alternate energy solutions Sharif International was invited to showcase its' portfolio of solutions and products in a colourful ceremony held at the ENERCON head office building in Islamabad on 31st Jan 2009. The Honourable Federal Minister for Environmental Affairs was the chief guest accompanied by the Secretaries and MD ENERCON and other relevant staff. On this occasion numerous energy conservation techniques and devices were demonstrated and explained to the Honourable Minister by the CEO Mr. Tariq Khattak and the Dir Operations Mr. Hasnat Ahmed.
The CEO also briefed the delegation about the newly introduced Invertek Drives from UK, as well as solar power applications and devices. The Dir Operations explained the working principle of VFDs and the energy huge saving potential for the industrial sector that they harness. Another star of the show was Mr. Light HID Lighting Saver. The Honourable Minister took a keen interest in Mr. Light and was delighted to know that it could save more than 38% electricity when installed on HPS street lamps. The MD ENERCON Mr. Faridullah Khan gave a presentation on this subject to the delegation. He emphasised that more than 3 MW of electricity can be saved just by implementation of Mr. Light in Islamabad Street Lights alone. To witness the event some pictures are here for conservation enthusiasts.
---
Mr. Light HID Lighting Saver Installed at Karachi Port Trust
The Karachi Port Trust is a premier organisation of Pakistan, handling the staple sea shipping activity. The port area has dozens of HPS Lighting Masts housing many hundreds of lights in all. Mr. Light HID Lighting Saver is providing a valuable 20% plus electricity conservation to KPT. The following few pictures brief the installation activity at KPT.
---
DHA Creek Karachi – Solar Street Light Installation
Sharif International was contacted to install a demonstration solar street light in the DHA Karachi Creek Area to assess its suitability and aesthetics. An LVD based solar street light (40 Watts x 2) was erected on the 11th of March 2009. All high ranking officials from DHA Karachi were present to witness the occasion.
All those present noticed the crisp white light and better illumination of hi-tech 80 Watts LVD lighting compared to the 250 Watts HPS lamps installed right across the road. In reality the newly introduced LVD lighting technology boasts of almost 40% energy conservation compared to HPS for similar or better illumination and a much better CRI.
Here's a pictorial..
---
Textile Asia Expo, Karachi
Earlier this year Sharif International Participated in a hugely successful Textile Asia Industrial Expo at Karachi Expo Centre. Cutting edge VFD technologies from Invertek Drives UK were on display and attracted thousands of curios visitors. Most of the industrial visitors were very eager to learn about energy conservation opportunities offered by Invertek Drives UK.
As a result of these many successful energy savings demonstrations were performed on site by Sharif International throughout the industrial areas of Karachi.
Among many other dignitaries visiting our display were the Honourable Federal Minister for Textiles. Here's an ode to the occasion.